Humanities and Social Sciences

Introduction
Welcome to the Department of Humanities and Social Sciences (HSS) – the largest and most diverse department at LUMS. With almost 50 PhDs across the humanities and the social sciences, we offer majors in: Anthropology and Sociology; English; Political Science; History; Economics and Politics. In addition, we also offer minors in: Philosophy, the Study of Religion; Psychology; Comparative Literary and Cultural Studies.
The department aspires to offer a rigorous and innovative humanities and social sciences undergraduate programme of the highest international standards taught by a community of world-class scholars. HSS is committed to groundbreaking interdisciplinary research which contributes to the creation of knowledge and the vibrancy of the teaching curriculum. Both teaching and research will contribute to a reflective, empathetic, and historically informed understanding of current issues of both local and global relevance.
Our vision it to have our students graduate with the capacity to explore widely and deeply, think creatively and critically, and express ideas clearly and effectively. By realising their full intellectual and personal potential, students will contribute to the world around them through inspirational leadership and transformative community participation. The department seeks to contribute to the betterment of society in Pakistan and the wider region and to nurture individuals to be principled, intellectually engaged, and socially responsible.
Message from the Head of Department - Welcome to HSS!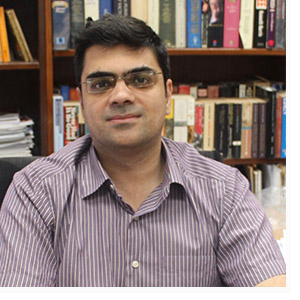 The Department of Humanities and Social Sciences is the leading undergraduate humanities and social sciences department in the country, and internationally recognized as one of the best in the region. The Department offers a wide range of courses that span disciplines as diverse as anthropology, cultural studies, English language and literatures, environmental studies, film studies, history (including history of art), gender studies, international relations, philosophy, political science, psychology, regional languages, and sociology. The Department, the largest and most diverse at LUMS, boasts over 50 PhD faculty trained at leading global universities who bring their international standard research and insight into the classroom. Our faculty challenges our students to explore and understand society and the human experience through a diverse series of lenses – cultural, historical, philosophical, political, psychological, and social. HSS students leave LUMS as critical and independent thinkers, collaborative researchers, and life-long learners. They stand ready to tackle local, regional, and international problems with a strong sense of community, socially responsible, and global-mindedness - no matter what their chosen career path. We invite you to join us in this journey of discovery!
Waqar Zaidi 
HSS Undergraduate Programmes