Chaudhry Nazar Muhammad Department of Economics

INTRODUCTION
The Chaudhry Nazar Muhammad Department of Economics seeks to contribute to questions at the frontier of economic knowledge by drawing on the regional laboratory of economic and social life in South Asia and by collaborating with academics based at global centers of excellence in economic research. The Department has 21 full-time PhD faculty members who have graduated from renowned institutions in the US, the UK, and Canada, and who are dedicated to teaching and conducting research in areas such as macroeconomics, microeconomics, econometrics, development, environment, trade, and finance.
 
Our undergraduate programme provides Economics majors with a comprehensive knowledge of important theoretical and applied concepts in the field. We encourage our majors to learn how to pose interesting economic questions and apply economic theory and empirical methods in solving problems. Students are able to choose from three major areas: Economics; Economics and Political Science; Economics and Mathematics. Our undergraduate students go on to build careers in government, policy making, law, education, and business, with many pursuing post-graduate degrees.
 
The graduate programme is designed for fresh graduates as well as professionals seeking further training in Economics for career progression or change. MS Economics encourages you to apply your training to address and resolve major challenges in business and policy. We offer a two-track MS Economics programme after 16 years of education. The 1.5 year degree programme is designed for those with sufficient prior background in Economics and Quantitative Economics at the undergraduate level. The 2.5 year programme is designed for students who do not have a prior background in Economics, Mathematics, Statistics, and Econometrics.
Message from the Head of Department - Welcome to Economics!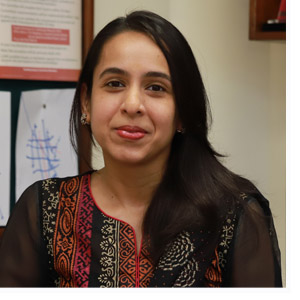 The Chaudhry Nazar Mohammad Department of Economics is a vibrant community of economists hailing from different schools of thought and disparate views, dedicated to leading the inquiry into questions of social, economic and policy significance. Together with our administrative support staff, our mission is to expand and enhance our world-class curriculum, enabling an in-depth understanding and application of the latest techniques in economic methods. Whether you are enrolled in our bachelor's or graduate programs, fulfilling requirements towards a minor, or taking your choice of courses with us, you will receive rigorous training in the analytical, mathematical, and theoretical foundations of the discipline. Our faculty, many recognized as the leading experts in their respective fields, train our students in which questions to ask and how to answer these keeping the local context and policy pressures in mind. Today, the world's socio-political and economic landscape is rife with complex, compelling and challenging questions. Why does trade benefit some countries more than others? What is climate change, who is most vulnerable to its effects and how do we counter it? Why is the state more responsive to some groups and not others? How do we ensure that economic growth does not bypass the poor, vulnerable and marginalized? Why has Pakistan continued to lag in key development indicators and why are we unable to close the gender gap? What does this mean for us in a rapidly changing global economic system? These are just some of the questions you will face and raise in your classrooms. All are of critical import. Some require an understanding of local dynamics; others require a global and even historical perspective. Often, we are left with more questions at the end. Yet, we continue to tackle them. Join us and shape the discourse of the future.
Hadia Majid 
Economics Undergraduate Programmes
Economics Graduate Programme